VPD Neck Brace
Cervical spine protection for mountain biking

Winner of ASU's Design Excellence Award 2020



Research
|
Brand Study + Context
POC Sports
"POC Sports is a Swedish company with a strong mission to do the best they can to possibly save lives and to reduce the consequences of accidents for gravity sports athletes and cyclists."


- POC Sports' mission statement
One category of products that POC manufactures is mountain biking armor - protective equipment that helps prevent or lessen torso and spinal injuries sustained from high-velocity crashes while riding. POC Sports calls it their
VPD System
.
Research
|
Product Opportunity Gap
Cervical Spine Injury Prevention
Some of the most significant injuries in mountain biking occur in the cervical spine area, which can cause death or paralysis.

The most common cervical spine injuries occur in the upper vertebrae near the skull. They're caused by whiplash - a hyperextension of the head where it is forced backwards.
The current solution:
mountain biking neck braces


Neck braces are a part of mountain-biking armor designed to prevent injury to the cervical spine in a crash. It does this by restricting harmful or fatal movement of the head and neck, while diverting high-velocity and high impact forces away from the cervical spine and onto parts of the upper chest and back.

The Gist

Neck braces are a crucial part of mountain biking safety and protection.

In mountain biking accidents where the cervical spine is affected, critical injury is

89%

more likely without a neck brace, and death by cervical spine injury is

69%

more likely without a neck brace.

POC Sports currently does not offer a neck brace.
Product opportunity gap criteria:
i.
Neck braces are a
statistically vital
part of mountain biking protection.
ii.
Current lineup is
lacking
in the area of cervical spine injury prevention.
iii.
There is an already
established market
for it; low risk, high incentive.
iv.
Neck braces align with POC Sports'
brand + mission
statement .
Develop a POC Sports MTB neck brace using their visual brand language and body armor lineup.
Ideation
|
Visual Brand Language
POC Sports makes use of a visual brand language that is seen in both their logo and products -
counterbalancing a strong and industrial structure with soft chamfers and round corners on features like vents and straps.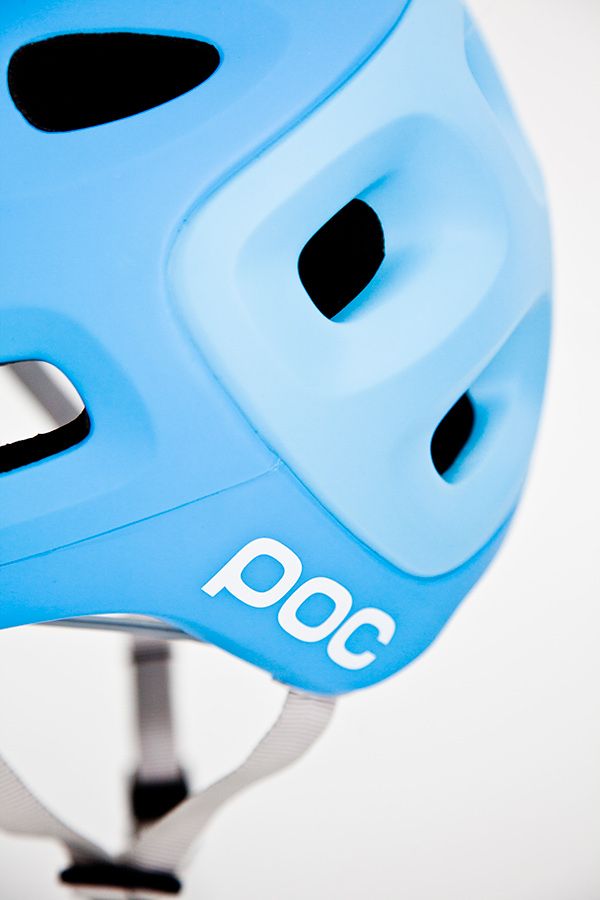 Development
|
Prototyping + CAD
A rapid prototype using cardboard and foamcore kicked off development, guiding the ergonomics and user-experience of the neck brace (such as putting it on, scale of neck brace, and placement of pads). The second prototype was a more developed model, using layers of lasercut and heatmolded styrene, attached to blue-foam pad pieces.